Dienstverband

Vast (Fulltime)

Werklocatie

Amsterdam
(Nederland)

Branche

Horeca / Toerisme / Recreatie

Beroep

Horeca / Toerisme / Recreatie

Carrièreniveau

Startfunctie (weinig ervaring)

Salaris indicatie

MarktConform


Startdatum

Per direct

Niveau

(Selecteer)


Contact informatie
Mövenpick Hotel Amsterdam
t.a.v. Human Resources team
Piet Heinkade 11
1019 BR Amsterdam

Tel: 020-5191222
Website: Ga naar website

F&B Waiter Roomservice (m/f)

Mövenpick Hotel Amsterdam
Amsterdam (1019 BR)
JPNLSQMX0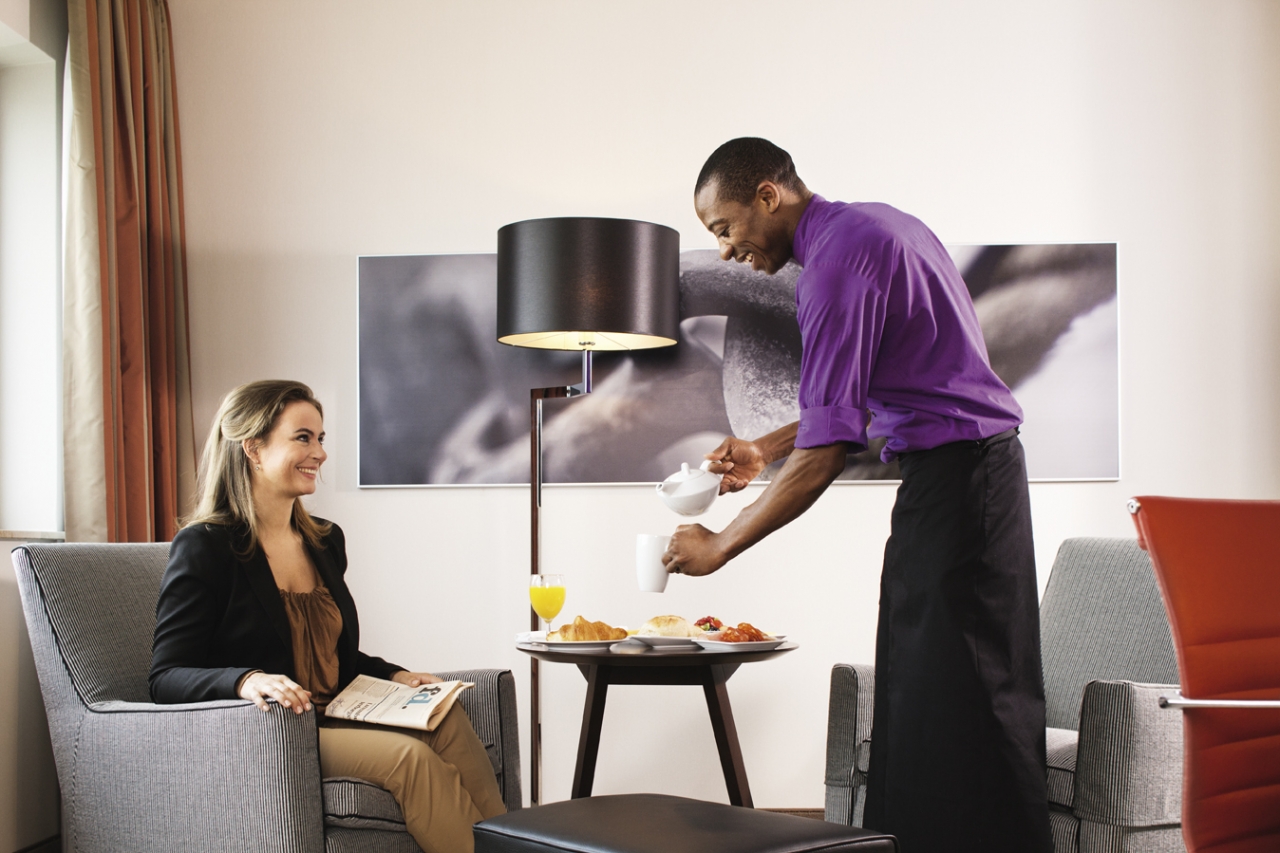 We are looking for an enthusiastic and 'hospitality minded' F&B employee for the room service department of our hotel. The gastronomical aspect of our hotel represents itself throughout our Lobby Bar, Roomservice and our Silk Road restaurant with the East meets West concept and a capacity of 250 seats.


The most important tasks of a Roomservice Waiter are:
Serving the guest
Taking telephone orders, giving information and or discussing special requests of the guest with the manager or kitchen
When needed making simple meals and drinks for the guest
Bringing and serving the orders to the guest in the hotel room
Preparing bills for the guest
Other preparation tasks such as ensuring that there is enough mise en place, cleaning and organizing within the department and public spaces
Profile
Middelbare hotel school or sufficient relevant experience in an equal size hotel and/or position
Team player
Knows how to handle stressful situations
Trustworthy
Knowledge of the English language is a must
Knowledge of the Dutch language and/or another third language is preferred
Transportation to the hotel at any time during the day/night
We are a member of Koninklijke Horeca Nederland and operate according to the Dutch labor agreement.


Mövenpick Hotels & Resorts offers:
Pension fund
Excellent international career development and training possibilities.
Travel allowance
Night- and Sunday allowance
Staff uniforms and laundry service
Staff meals
Discounts on Rooms and Food & Beverage within Mövenpick Hotels & Resorts
Vitality program
Tax advantages on bikes and laptops
Employee Recognition Program
Various staff events
Please note that if you are not a citizen from a European state and you do not have a work permit for the Netherlands you cannot apply for this position.
How to apply for this career opportunity?
We appreciate hearing from all qualified candidates by submitting your application by using our
Online Application Form
. Website:
Go to website
Acquisitie n.a.v. deze advertentie wordt niet op prijs gesteld.
Overzicht
Solliciteren
Afdrukken
Opslaan

Aanvullende informatie:

Referentie: JPNLSQMX0
Dienstverband: Vast (Fulltime)
Werklocatie: Amsterdam (Nederland)
Branche: Horeca / Toerisme / Recreatie
Beroep: Horeca / Toerisme / Recreatie
Carrièreniveau: Startfunctie (weinig ervaring)
Salaris indicatie: MarktConform
Startdatum: Per direct
Niveau: (Selecteer)


Contact informatie:
Mövenpick Hotel Amsterdam
t.a.v. Human Resources team
Piet Heinkade 11
1019 BR Amsterdam

Tel: 020-5191222
E-mail: hr_sqmx0@jobpromo.nl
Website: www.movenpick.com/en/europe/netherlands/



Job Promo B.V. | www.jobpromo.nl